By Kelly Pollock, feature writer for The Buzz Cafe
It's spring in the Oak Park Arts District!  The weather is getting better every day and it's the perfect season to check out some of these businesses that have opened in the last few years.  If you haven't been on Harrison Street in a while, you don't know what you're missing.
Valdo's Barbershop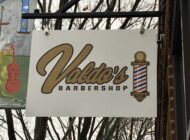 Valdo Leo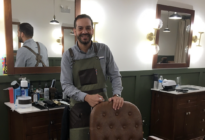 n first started barbering as a child when he cut his uncle's hair in exchange for being allowed to take over the kitchen on Sundays.  It's been more than thirty years, but he finally realized his dream of having his own shop when Valdo's Barbershop opened in September 2020 at 128 Harrison Street.
After years spent in the military, barbering, working for UPS, and then back to barbering, Valdo became fixated on opening his own barbershop.  He took his wife's advice and drove down Harrison Street one day after dropping his son off at school.  "I started seeing multiple storefronts that were available and checked out each one to see what would best accommodate my needs.  I hit 128 and thought, 'This is it.'"
Valdo is known for his versatility and can manage anything from a basic gentleman's cut to the tightest fade and graphics.  And while many people tend to forget that esthetics are taught in barber school, Valdo believes that it's time to highlight those services.  "We're losing that essence in modern barbering.  People get caught up in being a chop shop.  There are very few barbershops that offer pampering services."
Purple Sun Arts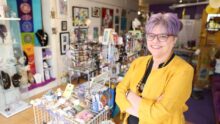 Ann Viernes recalls loving both science and art from a young age.  "I can remember in kindergarten always wanting to paint on the easels, but I don't think I ever actually did it.  I was very, very shy.  But all through school my two loves were science and art.  The gifts I always got from my parents were things like a microscope or art supplies."
Anne chose to study biology in college and worked at Rush University Medical Center for more than 30 years.  After several years of retirement, Ann took a sabbatical to contemplate her next step.  "I went up to my hometown of Manitowoc, Wisconsin, with all my painting supplies and stayed for ten days right by the lake.  Then, when I returned, I was walking through the Arts District and I saw this space for lease and I thought, 'This is it.  I'm not in healthcare anymore.  I'm an artist now.'"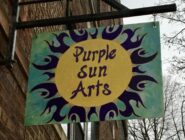 Anne opened Purple Sun Arts at 142 Harrison Street in the fall of 2020.  The name was inspired by her love of  "purple sun glass."  In addition to her paintings, Ann makes jewelry and greeting cards.  She also sells some of the vintage glassware and jewelry that she has collected for years.
Taco Mucho
As a child growing up in Indiana, Ron Aleman loved watching his mother and grandmothers in their own kitchens.  After college at Purdue University, Ron worked in sales.  But he had always really enjoyed cooking and was considering culinary school.  It was the events of September 11, however, that gave him the push he needed.  "Life is too short," Ron told himself, eventually graduating from Le Cordon Bleu in Chicago.  It took twenty years, but in August 2021, Ron opened his own restaurant, Taco Mucho, at 220 Harrison Street.
When asked what he hoped for for the business, Ron said, "We want to be a casual, neighborhood taqueria—a place parents can bring their kids and a casual date-night spot with great food and cocktails.  We see Taco Mucho as an extension of our home and want you to feel like a guest when you come in to eat."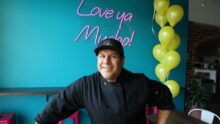 The menu is focused on tacos that are all served on handmade corn tortillas.  They also offer nachos, tortas, bowls, and quesadillas.  Sides including "abuela's" rice and beans round out the menu.  Taco Mucho is open Tuesday through Saturday from 11:30am to 8:00pm and also offers carry-out and delivery.
Steve Fisher Arts

For years, Steve Fisher's art studio had been in the basement of his home behind the Friendly Tap in Berwyn.  "I'd been thinking of getting a dedicated studio space, and I finally said, 'If not now, when?'" said Steve.  "But I needed a place that was as quick to get to as my basement."  That "place" ended up being 301 Harrison Street where Steve opened shop in the fall of 2022.
Steve has been painting since he was a child and was particularly influenced by his family's visits to the Art Institute of Chicago.  He always liked the Impressionists, and then, in the mid-1960's as he was about to start high school, Steve took in his first Picasso exhibition.  "It was a wake-up call.  I walked from one end of that show to the other and back again.  From then on, my art was never really the same.  Before, I had done the kind of art kids do to get a pat on the head.  After, I went my own way.  The experience opened doors for me."
Steve compares his work as an artist to a physicist working on equations on a giant blackboard.  "They start with a hypothesis and different ideas.  But then things start to mesh.  That's what I do with my artwork; I push things around until my ideas crystallize."  While Steve uses his new space as a studio, he also plans to display a rotating collection of paintings that will be available for purchase and to have tie-ins with Arts District events.