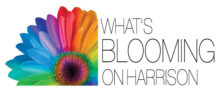 What's Blooming on Harrison will be held on Saturday, May 20, 2023 in the Oak Park Arts District RAIN OR SHINE.
Presenting sponsors: Byline Bank, Mosaic Counseling & Wellness,  Oak Park Apartments , Oak Park Bank  
Festival Sponsors: D.M. Burton, House of Heat, Forest Park Bank, Kinslahger, School of Rock Oak Park, All American Gutter Protection,  
Media Sponsors: Wednesday Journal, ColorImage Inc.
This year's promotional poster is inspired by original art by Annette Zwierzchowski Donlin.
Here are some of the our 2023 Vendors:
alkyline, Alyssa Hozian Art, Alphabet Boutique and Bookshop, Andria Green,  Andon Woodworks, Art by Jess, Babygold Barbecue, Baltic Amber, BCU Pics, Bead In Hand, Belle Rose Photography, Benjamin F Calvert III, Brian Patrick Photography, Candycopia, Chef Heatley's Hot Pepper Farm, Carol Musial Glassworks, Centre Physical Therapy, Confident Kids Series,  Contour and Color, Dancing Krow Studio, Dima Jewelry Atelier + Boutique, Dive Bar Soap Company, DJ Corchin, Dye Hard Yarns, Ear-Resistible, Expressions Studio, Gift of Hope Organ & Tissue Donor Network, Glass by Gaby, GRND Coffee House, Handmade Baby Blankets Etc, Healing Flames Candle Company,  Jamilla Yipp Photography, JanaWare Pottery, JCR Wood Design, Kadampa Meditation Center Chicago, Kiera P Jewelry, Ken Reif, Kool Karma Bracelets LLC, Laura Williams, Lemah Creek Naturals, Mad Ones Studio, Mael Designs, Manos de Maya, Marygold Mary, MASHALLAH, Mzuzi, Mosaic Counseling & Wellness, North Berwyn Park District, Oak Park Bank, Oak Park Our Whole Lives,  Oak Park Public Library, Oak Park Residence Corporation, Olimoli Designs, Organic Seed Jewelry by Francia Cortes, PhDetour Modern Makes, Pinhead Designs by Dish, posy goods, Purple Sun Arts, Rafael "Unca Raffy" Nieves, RC Training & Fitness, Reflections with Kate, Renewal by Andersen, Rocket Relics, Sarah M Johnson Art, Sarah's Inn, SealyumProductions,  Shabby Fly, Six Point Pet, Slowfire Ceramics, SMS Studio, Soap Junkii Bath + Body, Studio 144 Boutique,  Styles 4 Kidz NFP, SunshineIsHappiness, Sweet U Candles, Symphony of Oak Park & River Forest, Ted Gordon Art, The Actors Garden, The Art Bear, LLC, The Artist's Alley, The Fox and Owl Den,  The Buttons Stop Here, Thresholds, TLD Design Center & Gallery, Trattoria 225,  Twisted Metal Designs by Carla, Val's halla Records, Village Church Oak Park, Wild Indigo & Juniper, Wonder Works Children's Museum
There will be a drone flying over at some points to capture the fun at the festival.
2023 What's Blooming on Harrison will feature a silent auction of artwork in the alley near 211 Harrison. Auction closes at 7pm: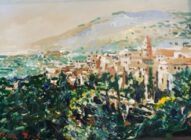 Steve Fischer

Karen Schuman (Dancing Krow)

Janice Elkins

Kim Humphrey (Bead in Hand)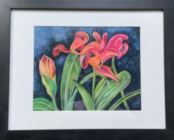 Marion Sirefman

Ann Viernes (Purple Sun Arts)

Ann Viernes (Purple Sun Arts)

Ken Reif

Encaustic Wax piece. 8×10 cradleboard. By Mimi Comerford
Please note: This is a family event, any artists/crafters with items deemed not family friendly will be denied. If you have now or ever used explicit language or images this is not the event for you.