By Kelly Pollock, feature writer for The Buzz Cafe
What's Blooming on Harrison has become Oak Park's largest street festival.  This year's event is on Saturday, May 20, and runs from 11am to 7pm.  The Craft Beer Garden and Main Stage will operate until 9pm.  Presenting sponsors Byline Bank, Mosaic Counseling & Wellness, Oak Park Apartments, and Oak Park Bank will help ensure the festival's success.
Started in 1999, the festival has grown and now includes an art fair, entertainment stage, craft beer garden, kiddie carnival, and silent auction.  Over 100 booths will line Harrison Street from Humphrey to Highland.  Among the vendors are several Oak Park Arts District businesses as well as other local artists, non-profit organizations, and commercial businesses.
Carey Carlock, the co-founder of presenting sponsor Mosaic Counseling & Wellness, had this to say about the event, "We will have members of our team meeting and greeting and chatting up mental wellness.  We will have face painting and mental health awareness bracelets, stickers, and stress balls. … As an integrated therapy practice, we fervently believe in healing through the arts.  We are proud to have four art therapists and two dance movement therapists on our team."
The festival's Main Stage will have various groups performing throughout the day.  Described as a "wildflower bouquet of local musicians," the stage will have family programming from 11am-2pm, followed by the School of Rock Show Team, Dozen Buzzin' Cousins, David Singer, Summer Drive, and then headliner The Crombies at 7:45pm.  "Get your dancing shoes on!" said Annette Coffee, the Oak Park Arts District Marketing Coordinator.
This year's Beer Garden will have craft beer from Kinslahger Brewing Company.  "We are thrilled to have Kinslahger beers at What's Blooming this year.  It's awesome to have such an amazing brewery that is such a great neighbor!" said Trevor Toppen, festival committee member and owner of Val's halla Records.
Food vendors will include Oak Park Arts District favorites Buzz Café, Mora Oak Park, Taco Mucho, The Happy Apple Pie Shop, and Trattoria 225.  Other food options will be available too, including Babygold Barbecue and Candycopia.
For families, the kiddie carnival rides won't disappoint.  Tickets are $1.25 each or a book of 20 will be available for $22.  Each ride costs three tickets.  Although tickets are cash only, there will be an ATM available.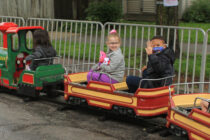 New this year is a silent auction that will be set up in the Oak Park Arts District Business Association tent.  Items available include artwork from Steve Fischer, Karen Schuman, Janice Elkins, Kim Humphrey, Marion Sirefman, Ann Viernes, Ken Reif, and Mimi Comerford.
This year's What's Blooming poster features a rendering of an original piece called "Surrounded by Grace" by local artist Annette Zwierzchowski Donlin.  The painting is a very personal one by Donlin that she created after being diagnosed with breast cancer.
"I turned to my art to help heal not only my body but also my spirit.  [The painting] helped me understand that life is about moments and trying to really be present in the moment we are in. … I thought about all my ancestors, our Creator, all the positive energy I have around me.  It was a creation of prayer for me; a meditation of optimism, beauty, and God's grace … inviting all into my soul to help me heal,"said Donlin.
Festival committee member and local resident Mimi Comerford was thankful for the help of their volunteers, "So much goes into making this festival happen and we are grateful for all the help we get from our community.  Without our volunteers we could never make this happen."
Admission is free.  For more information about What's Blooming on Harrison, visit the Oak Park Arts District website at www.oakparkartsdistrict.com.