By Kelly Pollock, feature writer for The Buzz Cafe
Noelle Allen grew up on the West Coast (Sacramento), went to college on the East Coast (Smith College), and has called Chicago and Oak Park home for the last twenty years. And while she will continue to operate a large studio out of the home she shares with her husband Tim and sons Henry and Zeke, she has recently expanded her business, Slowfire Ceramics, to a second location at 907 S. Lombard Avenue in the Oak Park Arts District.
Although her mother was an artist who had an art studio in the house, Noelle preferred ballet to art until she was a teenager. "I really loved dance and thought that I would do it professionally, but the body-shaming culture wasn't healthy for me. So when I found art at Smith, it was a light bulb moment." She switched her major from sociology to studio art and never looked back.
Noelle is a tenured professor at Dominican University where she runs the sculpture and ceramics department. And for years, she also exhibited her work in galleries and museums. Then two years ago, Noelle started offering private lessons out of her home studio. "I put a call out on Facebook and advertised that I would accept children who were neurodivergent. A lot of my initial students had mental health challenges and really needed to get out of the house during the pandemic. My studio was a safe space that was cozy and intimate."
Before long, she couldn't accommodate everyone with private lessons and so she formed small group classes and hired another teacher, Alice Arreola-Perez. Alice trained at Dominican and had worked with Noelle as an artist assistant for several years. "Alice has been amazing and is like family to me now. I couldn't have done any of this without her," says Noelle.
Within eighteen months, Noelle was employing several teachers and the business had expanded into all kinds of art in addition to the wheel throwing and handbuilding that started it all. By this spring, her teachers came to her and said, "This is out of control. You have to expand." The space that had felt cozy and intimate now felt too crowded. "Our classes were always selling out," says Noelle.
She considered some different options in Oak Park and then one of her teachers told her about a space that was available next to Buzz Café. "I looked at it and made a decision on the spot. It seemed kind of perfect. It's in the Arts District, it's close to the train, and my staff love being next to Buzz. It all made sense."
Although the business is called Slowfire Ceramics, Noelle wants people to understand that they have a lot of different offerings. The new location has classes and camps for children, tweens, teens, and adults in disciplines including ceramics, painting and drawing, and knitting. There is also a makerspace and classes in 3D printing and CNC routing. "I was interested in a multidisciplinary approach. I don't believe in just one medium," explains Noelle.
Classes continue to be small with a maximum of eight students and a minimum 4:1 student-teacher ratio. "Even with just four students, I'll have two teachers if necessary or I'll bring in a 1:1 aide if a student needs it. I heavily staff everything so our students get tons of attention."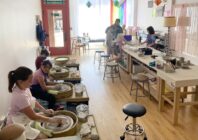 Noelle believes that the mission of Slowfire Ceramics is what sets it apart. "As our program has grown, I've realized that we're filling a need that I didn't even realize existed in Oak Park. We offer a bridge between a community art center and private education services. Our mission is to be an inclusive space, a safe space. Our students know us and we know them. It's a big family."
This fall, Noelle is planning to expand into preschool programming. "I've hired a behavior therapist who also has a painting degree. Evelyn has been working at an autism center in Chicago and she is going to offer small group preschool classes during the day and afterschool classes specifically geared for kids on the spectrum. In addition, she speaks Spanish, so there will be a Spanish immersion component as well."
Noelle is committed to making her classes available to everyone and has been funding scholarships out of her own pocket since she started. But she recently formed a 501(c)(3) called Slowfire Arts Foundation that will actively fundraise and provide scholarships for students in need.
To learn more about the class offerings at Slowfire Ceramics visit www.slowfireceramics.com. To make a donation and support the scholarship program visit www.slowfireartsfoundation.org.