By Kelly Pollock, feature writer for The Buzz Cafe
The art on the walls at Buzz Café is such a part of the experience that many customers might not stop to wonder how it ends up there. The answer comes from Charlie Doyle, the art manager and new full-time morning manager. "The process is very relaxed. You contact me, sign the artist agreement, we correspond, we meet, and then your art is on the walls," he says. "We're very flexible with what kind of art we consign. It just needs to be family-friendly since no one wants to answer complicated questions over pancakes."
The restaurant takes a 25% commission from all sales and art tends to sell exceptionally well over the holidays. "Some people stop in just to buy a piece of art. No coffee, no pastries, no food. Just art." says Charlie. Since taking on the role of art manager in the spring, he has enjoyed becoming immersed in the diversity of the art and the artists who are showcased.
Meet three of those artists below:
Mimi Comerford

Mimi and her husband Rick live on Harrison Street just down the street from Buzz Café. A few years ago, they purchased the commercial building that formerly housed Magical Minds Studio and converted it into their home. "The project took about eighteen months, but we love it. It's a fun space to live in," says Mimi.
Her family has a long history of involvement in the arts. "My great-grandfather was a prominent architect in California, my grandmother attended the School of the Art Institute of Chicago in 1913, and my father was an artisan tinsmith," says Mimi. When the time came for her to go to college, however, she took the advice of her business-minded mother and majored in marketing. "My mom told me that I would never be able to support myself as an artist and that I should get a business degree. So that's what I did," Mimi laughs.
Since then, she has spent her professional life working in sales and currently has her own consulting company working in the art supply industry. So how did she end up with her art on the walls at Buzz? "I started getting free products from my work and I just started dabbling. I found it therapeutic and satisfying to create something out of nothing," says Mimi.
Mimi's current passion is fused glass and she makes ornaments and wall art using the kiln housed in her home studio. She starting selling at Buzz over a year ago and gives part of her ornament sale proceeds to Dawn Center Rescue, a non-profit that specializes in hard-to-adopt dogs. "I've always loved that Buzz features community artists. It really makes for an interesting space."
Jen Keller, Jen Keller Art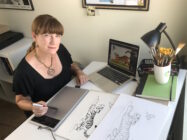 Jen Keller has been an artist her entire life. She grew up in the Chicago suburbs where she "was always involved in art and theater as a kid and throughout high school." She has a Bachelor of Fine Arts in Costume Design and a Master of Fine Arts in Traditional Illustration and in between spent five years as the owner of a dog-walking company.
She describes her work as "Stylized Realism." Says Jen, "It's not quite realistic, but it's based in reality. The work at Buzz Café (part of the Keller Kiddo Designs line) is all researched heavily to get the animal's anatomy correct, then it is hand-drawn and hand-inked. Then I scan it into the computer and add the color. It has a modern, clean style that works well in decor."
In addition to her children's art, Jen also creates pet portraits and greeting cards and has done illustration work in the publishing industry. When she's not working as a full-time artist, Jen keeps busy as a full-time mom and loves spending time with her husband (a professional soccer coach) and daughter.
While art and family are her primary focus, the passion that inspired her years as a dog walker continues to show up in her work. "I love animals which is why I've dedicated my artwork to showing them in all sorts of different lights. From my nursery art to my pet portraits I hope to bring joy and a sense of connection to the world around us."
Rebecca LesStrang, Artimiss

Rebecca is the youngest artist on the walls at Buzz Café. She is ten years old and a 5th grader at Roosevelt Middle School in River Forest. Her dad Christian lives in Oak Park on Lombard Avenue just up the street from the restaurant. "Buzz is my local hangout and I asked about getting Rebecca's art on the walls. Charlie has been a great champion and took Rebecca under his wing," he says.
Abstract art is Rebecca's specialty. "Sometimes I drizzle the paint on the canvas like Jackson Pollock or I might paint the canvas all one color and then drizzle glitter on top of it," says Rebecca. Her business name is Artimiss because "my business is art, and I'm a young miss. And one of my favorite books is Ready Player One and I like the character Art3mis."
While she doesn't have her life mapped out yet, Rebecca knows that she wants an artistic career like fashion design or interior design. "I'm really into fashion and the way things get put together. When I buy an item of clothing, I can see my entire closet in my mind and I think what would go great with it."
But for now, Rebecca is just excited to have sold some of her pieces and plans to rotate her inventory in the new year. And what's her favorite Buzz treat? "Definitely the hot chocolate," she says with a grin.