By Kelly Pollock, feature writer for The Buzz Cafe
Need to do some holiday shopping? Check out the businesses of the Oak Park Arts District. They have gifts for everybody on your list!
For Her…
Purple Sun Arts (142 Harrison Street) is celebrating the season with a holiday lights sale—find a tag with a colored gem and save 10-25% off the price. They have beautiful handmade cards, jewelry (get three pairs of $10 earrings for just $25), and bath items (felted soap for $16). Visit www.purplesunarts.com or call 708-948-7443.

For Him…
Trying to buy for the man who has everything? Pamper him with the Presidential Treatment at Valdo's Barbershop (128 Harrison Street). This $75 package includes a clay mask to remove impurities, a haircut, and a hot towel shave with steam. It's the ultimate luxury! Visit www.valdosoakpark.com or call 708-628-3025.
For The Kids…
Do the kids already have too much "stuff?" Why not gift them something a little more "experiential" this year? The Oak Park Arts District offers an abundance of classes for kids of all ages including acting (The Actors Garden at www.theactorsgarden.com), dance (INTUIT Dance! at www.intuitdance.org), and art (Kidcreate Studio at www.kidcreatestudio.com). Many classes start in January and would make a great holiday gift for your budding actor/dancer/artist!
For The Family…
Want to start a new holiday tradition? Stop by Bead in Hand (145 Harrison Street) for their Snowflake Ornament Drop-In workshops on December 20, 21, and 23 from 1pm-4pm. Ornament kits are available in three sizes—Small ($6), Medium ($12), and Large ($15)—and are appropriate for ages 6 and up. Visit www.beadinhand.com or call 708-848-1761.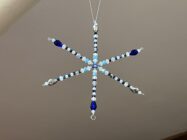 For The Host…
Headed out to a last minute gathering? Pick up a pie to share from The Happy Apple Pie Shop (226 Harrison Street). Flavors vary week to week but Signature Apple, Apple Crumble, and Chocolate Chess are always available and prices start at $24. Or if you need something savory, call ahead for a quiche ($22) and it can be ready in an hour. And don't forget to plan ahead. December 13 is the last day to place your Christmas pie order. Visit www.happyapplepie.com or call 708-606-0037.
For The Music Lover…
Pop in to Val's halla Records (239 Harrison Street) for a Mystery Gift Package of five records for $20. Sure to please anyone who loves vinyl. Or jump in with a Starter Kit that includes a turntable and two powered speakers for $249. It's ready right out of the box for quick set-up on Christmas morning. Can't decide? Buy a $50 gift card for someone special and get a $5 bonus gift card just for you. Visit www.valshallarecords.com or call 708-524-1004.
For The Crafter…
Dye Hard Yarns (210 Harrison Street) has everything for the knitter on your list. Want to give a gift that will bring joy throughout the year? Consider a Sock-of-the-Month subscription. For $179.99, your gift recipient will receive a skein of hand-dyed yarn and a sock pattern every other month for a year—a total of six shipments. Visit www.dyehardyarns.com or call 708-613-4456.

For The Taco Lover…(And let's be honest, who doesn't love tacos!)
Taco Mucho (220 Harrison Street) is a recent addition to the Arts District but their tacos, margaritas, and churros are already quite popular. After a long day of shopping on Harrison, sit back and enjoy some delicious Mexican food or stop in for a gift card that would make a great stocking stuffer for everyone on your list. Visit www.tacomucho.net or call 708-434-5740.
Happy Holidays from the businesses of the Oak Park Arts District!