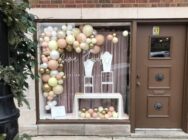 By Kelly Pollock, feature writer for The Buzz Cafe
Dima Ali doesn't usually have things come easily for her. "I spent the first 28 years of my life in a war zone. So when something comes together easily, I think that it was meant to be." And while Dima is still marveling about how quickly her new studio space materialized, she is excited about what lies ahead for her at Dima Jewelry Atelier + Boutique at 41 Harrison Street in the Oak Park Arts District.
Dima was born and raised in Baghdad, and she came to the United States in December 2002 just three months before the U.S. invasion of Iraq. Although she has a master's degree in Family Law, Dima could not practice after immigrating. She worked on and off doing English to Arabic and Arabic to English translation, but after having her children, Dima focused on being a mom to Luna and Sam.
It was the 2016 election and the subsequent Muslim Ban which ignited her passion for activism. "I am culturally Muslim. It's my culture and my identity, and the former President's attacks on immigrants and on Muslims made me feel that I needed to do something." Dima had always enjoyed making jewelry, but she lacked the self-confidence to think that her pieces were good enough to sell. But she wanted to make a difference and so she started donating her jewelry to causes she cared about and giving public speeches about her immigrant experience and her journey to U.S. citizenship.
"People loved my work and I started getting orders. I wanted to support a cause so I chose to donate a percentage of my sales to RefugeeOne," says Dima. Bit by bit, her sales increased. She focused on pop-up markets and her Etsy shop and last year when things really took off, she realized she needed a separate studio space.
"My studio was in my basement, but at home, the lines between work and family are blurred. There are constant interruptions and creativity is not concentrated." So it was serendipitous when a friend forwarded a Facebook post about a space for rent on Harrison Street. "I responded to the post, I stopped by, and I left with keys," Dima marvels. With the help of friends, she was able to put the space together in just a few weeks, and on February 12, she celebrated her soft opening. "Sometimes when opportunity falls in your lap, you take it and run."
While the space is her full-time studio, she will also be keeping some regular hours for customers to stop by. And she's hosting "Sundays at the Studio" from 2pm-6pm to give other people working on projects a space to find some concentrated creativity of their own. "Productivity is infectious," says Dima.
Dima describes her jewelry as "very dainty and feminine," "made with good quality materials," and "well-priced." Nothing costs more than $75. "I'm selling to my neighbors, to my friends, to my community," says Dima, "Good quality and affordable prices are my priority."
"I love to work with gemstones. What is really in right now is pearl and gold. Earrings have been selling like crazy. Everyone wants earrings so they look good on Zoom calls," Dima laughs.

Dima also feels strongly about supporting and promoting other crafters in the community. "When I started, nobody wanted to give me an opportunity." She's determined to break that cycle and has set up a small area in her boutique for other crafters to sell their wares.
Dima is proud of her journey and her new venture. "The hardship I lived through made me the woman that I am today. I went through trauma after trauma after trauma, but I carry my scars with pride. I reached a point in my life where I needed to prove to myself and to my kids that, like air, I'll rise. For a long time, I was just a mom, but now, I'm a mom with a business."
Dima Jewelry Atelier + Boutique is located at 41 Harrison Street. Dima Ali can be reached at [email protected]. Visit her Etsy shop at www.etsy.com/shop/dimajewelrydesigns or follow her on Facebook and Instagram.