By Kelly Pollock, feature writer for The Buzz Cafe
Darien Marion-Burton is passionate about many things but seems to have found a niche with his marketing agency, D.M. Burton. After only a few years in business, they needed more space to grow and he recently moved his six-person team to 140 Harrison Street in the Oak Park Arts District.

A self-proclaimed "Lifelong Buzzer," Darien has spent half his life working in the Arts District. At age fourteen, he got his first job as a dishwasher at Buzz Café. "Laura at Buzz is like a second mom to me. She hired me even though I was late to the interview," laughs Darien. He continued to work there in various capacities for fourteen more years.
After earning his degree in Business Administration from Augustana College, Darien started his career as a personal stylist at Nordstrom and then worked for a financial technology (fintech) start-up. Through it all, he continued to work at Buzz. "I like money and I like to buy pretty shoes. And you don't make a lot of money in an entry-level job. So I kept working weekends at Buzz. I only quit my job there last year."
Four years ago when Darien decided to abruptly leave his job at the fintech company, he needed to decide what to do next. "The day I quit my job, I made a list of options—work at Buzz, get a big-boy job, or start a business. I was only 25 and figured that I could take a chance, possibly fail, and still rebound before I turned 30. So I decided that day to start a business."
D.M. Burton grew out of Darien's love of fashion and originally offered personal styling services. But he was also interested in marketing and had added a tagline to his website saying, "We can style your business." That inadvertently led Darien to his first client when an Augustana alumnus contacted him and asked for a marketing plan. "It was the hardest I had ever worked in my life. I put together a sixteen-page proposal in two days. They were impressed and said yes pretty much instantly. Suddenly, I had a real client and decided, 'We're going to do more marketing stuff.'"
At first, D.M. Burton was simultaneously a personal styling company and a business marketing company. And then in March 2020 the pandemic hit. "Marketing was a strange industry to be in, because although we initially had a slight dip in revenue, our business exploded as companies started to reinvent themselves as they had to shift from in-person to virtual services. I'm still really uncomfortable saying that COVID was good for us."
D.M. Burton continued to grow and Darien had to move the business out of his house. "I like to work and if I'm not careful, I'm working all day, every day. It wasn't healthy or sustainable." He moved into CrossFunction on South Boulevard, but within months, they had outgrown that space too. "We only had about 120 square feet and there were four of us sharing the office." Darien started a search for a new home for D.M. Burton and in October landed in the Oak Park Arts District.
"Being in the Arts District is like coming home. I know so many faces from having worked as a server at Buzz for so long. And it's nice to meet the other business owners and get involved," says Darien. "I think we are sometimes overlooked as a shopping district. Yes, we're off the beaten path, but I think we need to sell that scrappy, charming essence."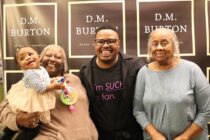 Darien takes his ties to Oak Park seriously. "This community gave me and my family so much when I was a child. I was born to an incarcerated mother and raised by my grandparents on a fixed income. Had it not been for the people here, I would not have survived." As another sign of his passion for the area, Darien is starting the second year of his term as the Board President (the "youngest, blackest, and gayest" President as he likes to say) of the Oak Park-River Forest Chamber of Commerce.

In the short-term, Darien is focused on settling into his new office space. "I'm going for an upscale rainforest vibe," he says. And in the long-term, he's got a 25-year plan. "I have a lot of passions and envision four pillars for the business: fashion, food, technology, and entertainment. The marketing agency will anchor it all, but at the end of the day, I want a portfolio of businesses that works to lift up Black and Brown people. And I want to create generational wealth so that I can send my nieces and nephews to college someday."
"Yes, I'm focused on the day-to-day, but it's fun to think about the future. From crack baby to billionaire," he says with a smile.
D.M. Burton is located at 140 Harrison Street in the Oak Park Arts District. The office phone number is 708-967-6349. Darien Marion-Burton can be reached at [email protected].