2023's Harvest on Harrison event is scheduled for Saturday, September 9th. Join us in the Arts District as we celebrate our unique small businesses under the crescent moon!


Join GRND Coffeehouse on Saturday, Sept 9 and experience Spoken Word as only Blake can perform… She will entertain you in unimaginable ways. A must see! 140 Harrison

Set your calendar and join MORA Oak Park for a limited one day pop up event – KAPE & UBE (coffee & ube). There will be small businesses showcasing baked goods, coffee,jewelry and art. Sunday September 10 from 11a-4p. All of your Mora favorites will also be available for take out and dine in! 201 Harrison. https://moraop.com/

YOUNG ARTIST OPEN MIC
SUNDAY, SEP 10 at 3:00PM
Come join Vals halla Records for their YOUNG ARTISTS OPEN MIC every 2nd Sunday of the month at 3PM. The next open mic is on Sunday, Sep 10.
This event is hosted by the Dante and Bredia from the band Luscia Jane.
CLICK HERE to sign up. This helps them plan ahead. If you don't sign up, they will still try to accommodate any performers who come. Generally, they recommend two songs not to exceed 10 minutes. Once everyone has gone, if time permits, they will invite performers up a second time for another 10 minute set.
This event is open to all performers – solo artists, bands, acoustic, plugged in, music, spoken word…you name it! They have microphones, a house drum kit, house base amp, a couple of DI boxes, and usually they set up a keyboard. If you need anything else, please bring it or call ahead to see if they can help.
Not a performer? Then come by and support these amazing artists! 239 Harrison

OPEN STUDIO AND ARTIST MEET AND GREET. Join the artists at Dancing Krow Gallery & Studio for an art reception for Harvest on Harrison in the Oak Park Arts District. Come and visit them and view their new art as they continue traversing "The Road of Flowers and Thorns." They will be presenting "Road of Thorns" aspect as the days get shorter and we move into autumn as we harvest and self reflect the seeds we've sown this year. Gallery hours for this streetwise event are September 9, 1-5 pm. Artists will be present. All are invited to mix, mingle and have a fun afternoon! Dancing Krow Studio, 43 Harrison. More info HERE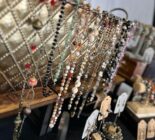 Pinhead Designs  will be a guest vendor at Studio 144 Boutique on Saturday, September 9 from 11a-6p.