Bead In Hand: Mother's Day is right around the corner! Come on in and make mom a one of a kind gift or choose from one of their finished pieces. They have kits for their popular bird's nest, mini flower pot, and peas-in-a-pod pendants. If you plan to sit at the back table and create your gift, please give them a call to make sure they have space available. Give yourself enough time too! 708-848-1761. 145 Harrison St. Note: CLOSED ON MOTHERS DAY. https://beadinhand.com/index.html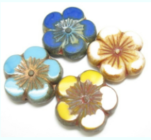 Brown Elephant: Mom can feel a queen every day with the furniture selection at the Brown Elephant! Shop from the finest, everyday 11 a.m. 6 p.m. 217 Harrison. https://www.facebook.com/BrownElephantOakPark

Buzz Cafe Mother's Day Take Out Menu: Mother's Day is all about celebrating the woman who raised you and shaped who you are as a person. From all the packed lunches with napkin notes to the bandages and kisses after falling off your bike, to being the first one to cry at your graduation– your mom was there for it all. That is why they are offering a special Mother's Day menu for pick-up only. They want to help you celebrate the special moms in your lives.  Pick-up will be between 8 am and 2 pm and all orders must be in by Friday, May 6th at noon! Visit http://thebuzzcafe.com/mothers-day-2022 to order! 905 S Lombard St.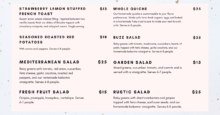 Dima Jewelry Atelier + Boutique. 15% sale on everything in her Etsy store until Saturday. Storefront is at 41 Harrison St. https://www.etsy.com/shop/Dimajewelrydesigns.  https://www.facebook.com/dimajewels

Dye Hard Yarns: Give the gift of creating; Beginning knitting or crochet classes available starting at $27.50. Check out the different class options. Gift certificates, Scented candles, bath salts, candle melts, & bath bombs! Everything to pamper, soothe and relax. Find them here. Save 25% of all Chiaogoo Products, Skacel Yarns and Urth Yarns & Kits. Use Code LUVMOM. They'll be open 12-5 Sunday May 8th for Mother's Day! 210 Harrison. https://dyehardyarns.com/

Elevate Creative: Celebrate Mom with  carefully curated bundles, or create your own! Elevate also offers e-gift cards so mom can shop for herself or update her look. Shop via elevate-OakPark.com. Shipping and gift wrapping are available! 321 Harrison St. http://www.elevate-oakpark.com/



Gallery PINK exhibition Strange Reverie:  NEW exhibition featuring new work by Janice Elkins and Gina Lee Robbins. Using expressive images, fractured form, and rich layers of texture, Janice Elkins and Gina Lee Robbins reveal the ghosts of human experience in abstracted, yet vividly emotional ways. ***In conjunction with the exhibition, Janice Elkins will be opening her studio for a special sale of discounted prints and original artworks, great gift! Hours for Strange Reverie: Thru June 26, Sat-Sun 1-5, and by appointment, 708. 648.3131. 149 Harrison St. https://www.facebook.com/GalleryPink/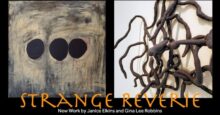 GRND Coffeehouse: Mother's Day is a day to honor and celebrate all mothers. GRND is preparing small cakes and cupcakes for your special mom! Stop by and order a small cake or pick up special cupcakes for her special day. …and try their new after dinner coffees and teas! 6″ single layer frosted cake ($45) available for in-store pick up only (with flowers $59, in decorative box $65). Your choice of vanilla or chocolate. Shop https://www.grndcoffeehouse.com/new-page-3. 140 Harrison. 140 Harrison St. https://www.grndcoffeehouse.com/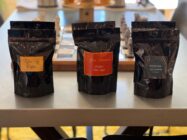 Happy Apple Pie Shop: Pies: Signature Apple, Apple Crumble, Lemon-Blueberry Chess, Chocolate Chess, Chicken Pot Pie. Friday/Saturday will include Mother's Day Specials – Lemon Chiffon, small Rosewater-cardamom-pistachio cream pie, assorted quiche. Call 708-606-0037 for latest info or stop by! 226 Harrison St. http://happyapplepie.com/

Jamilla Yipp Photography: A Motherhood Mimi can be booked at the studio at any time slot available. You can get a gift card for a special session just for that mom in your life! Click https://jamillayipp.as.me/Motherhood to book. More specials can be seen here: https://mailchi.mp/84ee0b6f45ed/spring-newsletter?e=b4de86651c. 19 Harrison St.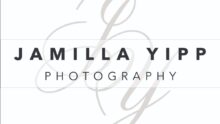 Kadampa Meditation Center Chicago:
Heal Your Life with Love Retreat, Saturday, May 7th, 9:45 am, Oak Park – Cheney Mansion. With special guest teacher Gen Kelsang Rigpa. Love is a powerful medicine that is both healing and transformational. Explore different facets of Buddha's beautiful teachings on love, and gain direct experience of them through teaching and guided meditation. Cost $35
A Mother's Kindness: A Buddhist Perspective, Sunday, May 8th, 10 am, Oak Park (in-person & Livestream) A perfect Mother's Day activity! Guest teacher Gen Rigpa will share unique Buddhist ideas and methods that will help us to deeply appreciate the great kindness of our mothers. Cost $ 12. https://www.meditateinchicago.org/event-details/a-mothers-kindness-a-buddhist-perspective
Kadampa Meditation Center Chicago is located at 13 Harrison St. https://www.meditateinchicago.org/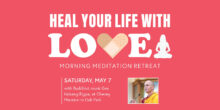 Kidcreate Studio Oak Park: Playdate with Mom- Love You to the Moon Workshop (18 Months-6 Years). In honor of Mother's Day, spend some creative time with your child. How many times have you said "Love you to the moon and back." to your child? In this class you and your young artist will create an adorable wall hanging inspired by this popular endearment. What a great keepsake! Register here. 200 Harrison St. https://kidcreate.com/oak-park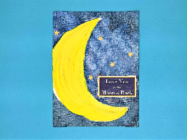 L'Institut français d'Oak Park: Oh là là! Share the joy of French for Mother's Day by offering your loved one a gift card to l'Institut français d'Oak Park. Customize the gift card amount on their website for your recipient to enjoy a weekly French-language Conversation Café, arrange for private or semi-private French lessons, or enroll in a French class. Registration opens for the Summer 2022 Session on May 2. Questions?  Visit www.frenchinstitute.net or contact Stacy Fifer at [email protected]. 11 Harrison St.

Mora Oak Park: Mother's Day Weekend Specials 2022. May 6 (Fri) – May 8 (Sun). https://www.instagram.com/p/CdOMGoXvgFm/?utm_source=ig_web_copy_link. 201 Harrison St.

Purple Sun Arts: What a unique gift! Cosmic Smashbooking Art Journaling May 28, 10a-1p. $60 per session (pay through www.paypal.com please, prior to session to email: [email protected]). The Fusion of Art Journaling with Intentional Creativity. Intentional Creativity® is to make with love, mindfulness and intention. Sessions are 3 hours long. Minimum of 2. Maximum of 4 persons per session. All supplies will be provided. 142 Harrison. https://www.purplesunarts.com/

Rare Bird Preserves: Moms love scones… and jams …and teas …and chocolates! Put together a special gift for the mother figures in your lives. They have new specialty teas from Rare Tea Cellars and hand-crafted chocolate bars from Ritual and Sirene. Their Mother's Day Menu is available for pre-order. Snap up an 8″ Chocolate Praline Paris Brest with fresh raspberries or a Spring Green Pea and Asparagus w/ Fresh Herbed Ricotta Quiche before they sell out! Limited quantities with be available in the shop for Saturday walk-ins.
They are also having a special Mother's Day POP-UP on Saturday, May 7th, 9a-1p. Shop candles by G & G Home, flowers by Ivy & Birch Floral, and Chocolates by Christina…with these 3 amazing local vendors all in one place, they recommend that you DO wait until the last minute to shop for Mom! Come for one-stop gifting and enter to win a raffle basket full of goodies. 211 Harrison St. https://rarebirdpreserves.com/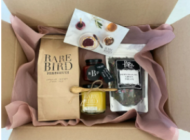 Studio 144 Boutique: Let them help you find the perfect gifts for your loved one. All jewelry and fragrance are buy one, get one 20% off through May 7. Boutique hours May 3-7 are Tuesday-Friday, 12-5, Saturday 11-5. 144 Harrison St. https://www.facebook.com/studio144boutique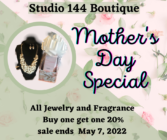 Taco Mucho: Now serving Desert Rose Margarita Cookies from @blackoutbakingco.  Celebrate moms and cinco de Mayo with some handmade tortilla tacos & finish with a box of Desert Rose Margarita Cookies! 220 Harrison St. http://www.tacomucho.net/

Trattoria 225: Mother's Day Brunch at Trattoria 225. Book your reservation by calling 708-358-8555 or use their website for online reservations. Sunday May 8, 2022, 10:00 am-3:00 pm. See menu here. 225 Harrison St. https://www.trattoria225.com/