Events
District Wide Events
Third Friday Gallery Walk
It's all happening on Harrison Street!  The Oak Park Arts District galleries are open for special events from 6:00 – 10:00 pm every Third Friday of the month. Enjoy dinner in the district and stroll the galleries taking in the artwork of the gallery owners and their guest artists.  Many of our unique businesses keep late hours on Third Friday evenings as well.  For neighborhood ambiance and a delicious dinner, you can count on the Eastgate Cafe, Trattoria 225 and the Buzz Cafe.
The next Third Friday Gallery Walk will be held on March 16th. Harrison Street galleries include: Black Moon Gallery, Whatever Comes to Mind Studio, Expressions Graphics, Art Gecko, Dancing Krow Studio, Gallery PINK and Buzz Cafe. Dancing Krow Studio stages a Third Saturday event.
Here are some of March's highlights: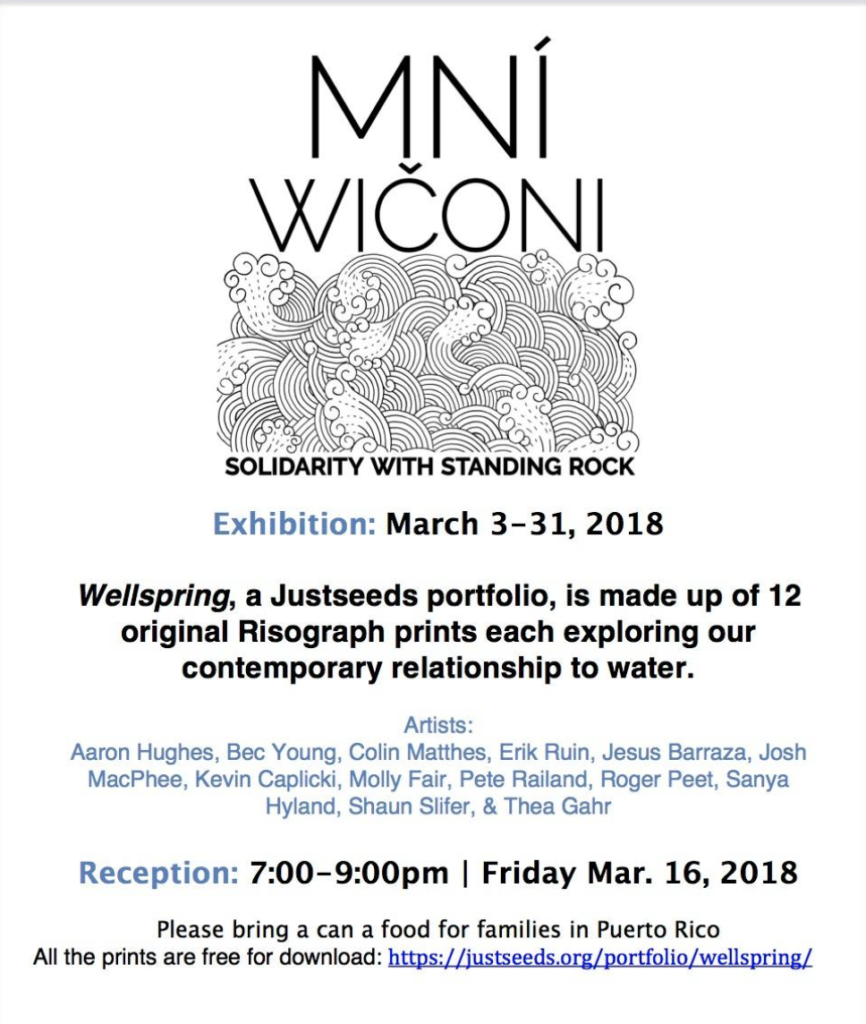 Expressions Graphics:  Members of the print making cooperative announce MNI WICONI, Solidarity with Standing Rock.  There will be an artist reception from 7 – 9 pm. The show runs through the month. More details in the image. 29 Harrison
Eastgate Cafe:  The bistro hosts three days of St. Patrick's Celebrations, Thursday through Saturday! Enjoy corned beef and cabbage plus folk duo Chris & Alvin on Friday night. Ring 708.660.9091 for dinner reservations. 102 Harrison
Nature Yoga Sanctuary:  On Friday evenings from 6 – 7:15 pm, the studio hosts a Candlelight Yoga class. Please register in advance. $17. 146 Harrison
Buzz Cafe:  Head to the Buzz for Burgers, Beers and Bands! The evening begins at 5 pm. Enjoy an organic burger while listening to some local talent. BYOB. Also, at 6 pm, the Local Artist Spotlight. March's artist is painter Pam Grace. Regular Roger Kotecki performs. Ring 708.524.2899 for reservations. 905 S. Lombard Ave
Open Door Theater:  Open Door brings together an ensemble of three theater and television actors from Oak Park to present Craig Wrights' thoughtful, beautiful play about two high school sweethearts who connect again at their 20th high school reunion. The third actor plays the Narrator and every other character present at the gathering.  The Pavilion is directed by Jason Gerace, a Jeff-Award winning director and also an Oak Park resident. OPAD Marketing gives it two thumbs up! 8 pm. Tickets are $22 – $27. Box office: 708.386.5510. 902 S. Ridgeland Ave.
Dancing Krow:  On Friday evening, the Ukulele Club of Oak Park hosts it's monthly get together. On Saturday, the Krow kicks off it's newest exhibit, Love Letters and Lucky Charms. Stop by to celebrate St. Patrick's Day with all the artists, 2 – 7 pm. Facebook Event Info. 43 Harrison