For Lease
Thank you for being interested in a property within the Oak Park Arts District.  Following are spaces currently available: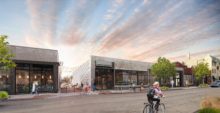 200 – 221 Harrison: SVN is pleased to present "Oak Park Arts", approximately 41,000 SF of retail space available for lease, anchoring the historic Oak Park Arts District. Multiple retail spaces available with opportunities for many types of retail uses including high end convenience/independent grocery, restaurants and cafes, bakeries and coffee shops, breweries, fitness, medical office, salons, galleries and boutiques. The Oak Park Arts District is steps from the CTA Austin blue line stop (Lombard entrance), thousands of nearby Oak Park residences, and the Eisenhower expressway which provides direct access to Chicago. Exciting new area retailers include MORA Asian Kitchen, Nature Yoga Sanctuary, The Happy Apple Pie Shop, and District Kitchen and Tap.
Location description:  The subject properties are proximate to the corner of Harrison Street and South Lombard Avenue, in Oak Park, IL. The location has excellent exposure on Harrison Street and great pedestrian traffic. Oak Park is located less than 7 miles west of Chicago's loop and enjoys strong historical roots. Oak Park is home to beautiful Frank Lloyd Wright architecture and Ernest Hemingway's boyhood home. Oak Park enjoys strong demographics with a population exceeding 184,000 in a 2 mile radius around the property.
SVN Commercial Real Estate Advisor Contact Information: Deena Zimmerman at dzimmerman@svn.com or 312.756.7336, Wayne Caplan at wayne.caplan@svn.com or 312.529.5791 and Kate Meyers at kate.meyers@svn.com or 312.756.7331. https://buildout.com/website/oakparkarts
Click to view the SVN brochure Oak Park Arts
Click to see a rendering of the alley view
Click to see a rendering of the corner view
Click to see a rendering of the Lombard Avenue view